Dematic Improves Customer Experience with Reimagined Website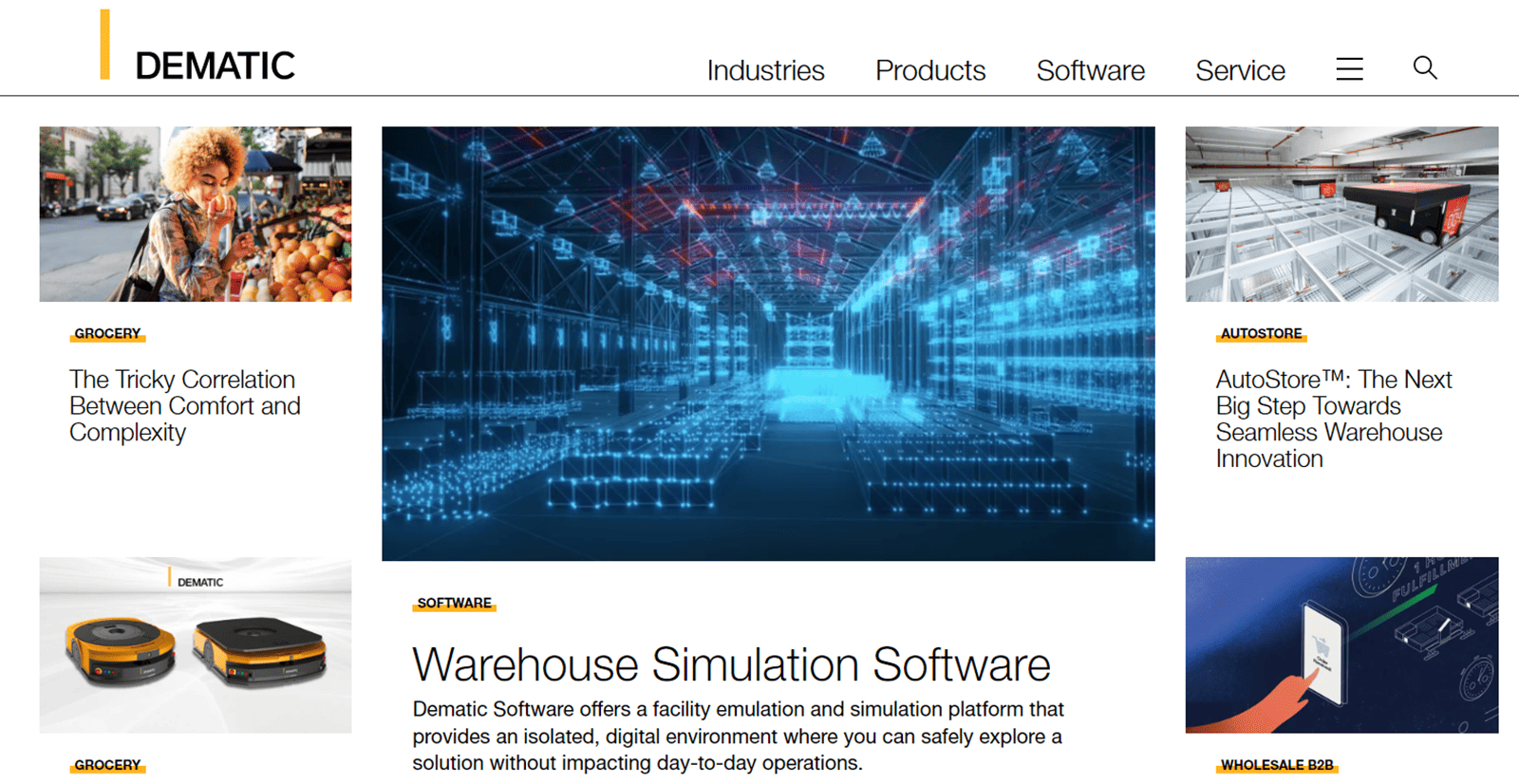 Atlanta — Dematic recently revealed a reimagined Dematic.com, featuring improved search function, user experience, and navigation structure. With the new design, the Dematic website now provides customers and prospects with easily accessed content that specifically addresses their challenges.
"In addition to giving our website a fresh design, we're excited to streamline the online user experience by focusing on what our customers truly care about," said Erin Dillard, Dematic VP, Marketing Communications. "And they will be able to find applicable content more quickly, with faster load times and mobile-friendly pages."
The website redesign began with an exploratory project by the Dematic Digital Marketing Team and the IT department of KION Group, Dematic's parent company, with the intention to re-platform the Dematic website and improve technical stability. As part of this exploration, the team realized the opportunity to overhaul the design and approach for presenting content to Dematic customers.
"Dematic's updated, modern website will be a standout in our marketplace," said Malika Givens, Dematic Global Senior Digital Marketing Manager. "The flexibility provided by the Adobe Experience Manager content management system will help us provide Dematic expertise and success stories when and where our customers need it."
As the result of this website overhaul, Dematic anticipates increased efficiency and stability for web processes, including a significant reduction in time spent each year on bug fixing and issue remediation. "We expect to see an increase in site traffic by 10%, which we believe will ultimately lead to an increase in customer inquiries," said Givens. "The new navigation and contact forms will enable customers to reach us effortlessly."
The new website was live as of Aug. 10, 2022. For more information about Dematic, visit dematic.com or follow us on LinkedIn, Facebook, and Twitter.
About Dematic
Dematic designs, builds, and supports intelligent automated solutions empowering and sustaining the future of commerce for its customers in manufacturing, warehousing, and distribution. With research and development engineering centers, manufacturing facilities, and service centers located in more than 35 countries, the Dematic global network of over 11,000 employees has helped achieve successful customer installations for some of the world's leading brands. Headquartered in Atlanta, Dematic is a member of KION Group, one of the world's leading suppliers of industrial trucks and supply chain solutions.