Dematic Installs AutoStore™ System at New Service Center Europe for Trelleborg Sealing Solutions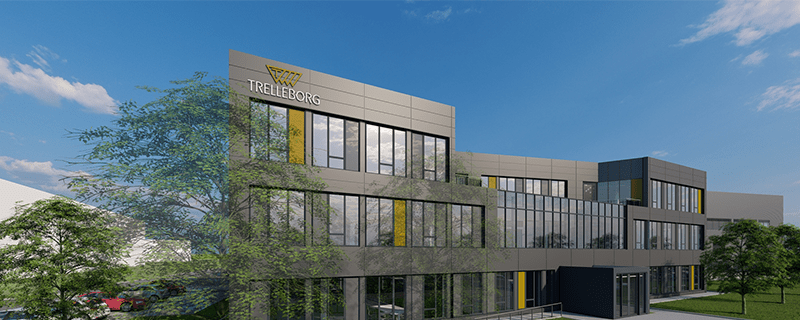 HEUSENSTAMM/STUTTGART, Germany — Dematic automates the new Service Center Europe for Trelleborg Sealing Solutions in Stuttgart. As one of the world's leading developers, manufacturers and suppliers of precision seals and guides, Trelleborg commissioned Dematic to develop the entire intralogistics solution for the new building. It will include an AutoStore system for the automatic storage and picking of small parts. The compact system will have space for up to 75,000 totes for high storage density with 32 robots that automatically access containers and transport goods to one of a total of 26 ports. A pallet warehouse, which includes an automated guided vehicle (AGV) system, completes the facility. Dematic integrates 10 automated forklift trucks from STILL GmbH, which, like Dematic, is also a member of the KION Group. Control software will feature SAP EWM warehouse management software with an EWM material flow computer. Construction work on the new service center has already begun, with commissioning planned for the end of 2022.
"Trelleborg Sealing Solutions chose us because we were able to deliver a total solution from a single source under the umbrella of the KION Group. The automated forklift trucks from our sister company STILL completed the deal," says Jessica Heinz, Head of Marketing Dematic Central Europe. "With the introduction of SAP EWM as well as intralogistics automation, Trelleborg expects to make its processes much more effective and achieve high system performance overall."
The consulting and planning company, TMG Consultants GmbH of Stuttgart, was also involved with the project. They carried out the detailed planning for the construction, logistics and IT trades, as well as the subsequent invitation to vendor selection. TMG will also support the project as it's implemented.
Trelleborg Sealing Solutions is one of three business units of the Swedish plastics group Trelleborg AB. The focus of their new Service Center Europe is on small parts storage. The AutoStore system will make efficient use of the available space by providing high storage density. It is a compact storage and goods-to-person piece picking system that can accommodate up to 75,000 containers. Its 32 robots automatically access containers and transport goods to workstations where the items are picked and distributed for further processing in production or delivered to the customer. "AutoStore ensures both safe and fast processes," says Heinz.
Dematic is also supplying a pallet warehouse with approximately 4,100 locations. AGVs provide fast, accurate and safe transport as well as storage and retrieval tasks of the palletized goods. It consists of a fleet of three automated STILL MXX narrow aisle trucks and seven automated STILL EXV high lift trucks. If required, a Dematic Multishuttle with almost 1,000 container positions buffers the goods picked from the AutoStore system until final dispatch. The entire intralogistics solution is completed by a conveyor system for pallets and totes that links all subsystems. The new warehouse system is integrated into the IT landscape with SAP EWM and an EWM material flow computer, which will be directly connected to PLC controls, simplifying the overall system landscape.
For further information, please visit dematic.com and still.de
About Dematic
Dematic designs, builds, and supports intelligent automated solutions empowering and sustaining the future of commerce for its customers in manufacturing, warehousing, and distribution. With research and development engineering centers, manufacturing facilities, and service centers located in more than 35 countries, the Dematic global network of over 11,000 employees has helped achieve successful customer installations for some of the world's leading brands. Headquartered in Atlanta, Dematic is a member of KION Group, one of the world's leading suppliers of industrial trucks and supply chain solutions.