Dematic Automates Yandex Market Moscow Fulfillment Distribution Centre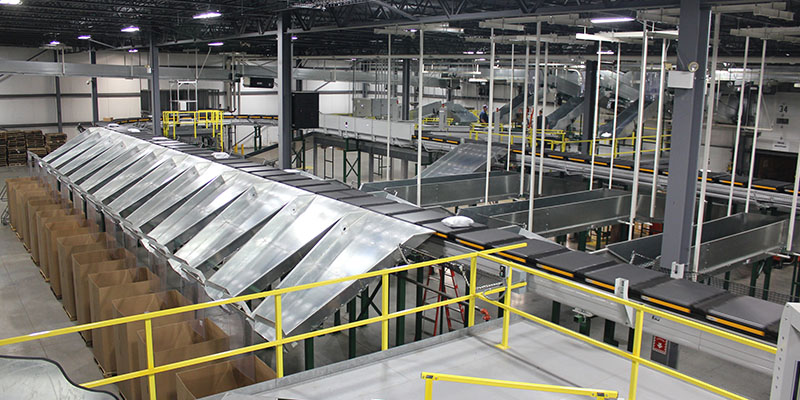 HEUSENSTAMM, Germany — Intralogistics specialist Dematic with its recently opened office in Moscow announces to automate a new logistics complex of online-shop provider Yandex.Market located in Logistic Technopark Sofino (Moscow region). In the course of its e-commerce business extension, Yandex assigned Dematic to automate its distribution centre in order to ensure even more faster and smoother e-commerce fulfillment. Dematic`s solution comprising the high-performance Dematic Crossbelt Sorter and more than 5 km Dematic MCS (Modular Conveyor System).
EFFICIENT FULFILLMENT OF E-COMMERCE ORDERS
Yandex is a founded in Russia multinational corporation with 18 commercial offices worldwide providing Internet-related products and services. Yandex runs the largest Russian search engine and is active in transportation, navigation, mobile applications, and online advertising.
Yandex.Market has launched a large-scale project for the construction and automation of operations in a new logistics complex in Sofino. Yandex.Market will have a universal site at 200 000 m2 with highly automated processes, a large parking lot for various vehicles (both small- and large-tonnage), reinforced floors, gates equipped for a comfortable and a quick loading and unloading of goods. The distribution centre will be equipped with a 5-story mezzanine for goods storage, and the loading of goods and the subsequent assembly of orders will be carried out using the high performance Dematic Crossbelt Sorter.
« We take pride in being the kind of resource that Yandex would trust to streamline their increasing operations as they are based upon a complete package of intralogistical know-how, technical quality and personal support", says Rainer Buchmann, CEO Dematic Central Europe.
WELL THOUGHT OUT PROCESSES
Main functions of the logistics complex for e-commerce fulfillment are inbound, sorting, storage, batch picking. Consolidation and shipment to logistics companies for delivery of orders to customers round off the installation. The different automated systems are connected by the Dematic Modular Conveyor System.
Dematic provides and connects the PLC and Dematic iQ Software to Yandex`s own Warehouse management system (WMS). In interaction the software solution will take care for the efficient e-commerce fulfillment.
"We decided for Dematic, because they convinced us by their global e-commerce proven experience and systems. With this elaborated intralogistics solution we expect to fulfill the orders of our customers to utmost satisfaction. We are planning to start operations in the first stage of the logistics complex by the end of 2021", says Aleksei Salnikov, Head of Supply chain development and planning department of Yandex.Market.
About Dematic
Dematic designs, builds, and supports intelligent automated solutions empowering and sustaining the future of commerce for its customers in manufacturing, warehousing, and distribution. With research and development engineering centers, manufacturing facilities, and service centers located in more than 35 countries, the Dematic global network of over 11,000 employees has helped achieve successful customer installations for some of the world's leading brands. Headquartered in Atlanta, Dematic is a member of KION Group, one of the world's leading suppliers of industrial trucks and supply chain solutions.